Ready to experience the ultimate flavor explosion?
The Spicy Recipe- *FORMERLY THE MARINADE RECIPE*
Regular price
$ 24.99 USD
Regular price
Sale price
$ 24.99 USD
Unit price
per
Sale
Sold out
MARINADE GOT A NEW NAME!
The Spicy Recipe 

This zesty, garlicky goodness will heat your tastebuds in the best way! We use only the freshest ingredients from the USA to bring you the best Italian dressing you have ever tasted! 
Our new Spicy Recipe is bursting with full-bodied flavor and nourishing ingredients guaranteed to satisfy every palate. Whether you're dressing up a salad, marinating meat, smothering a savory dish, or using this condiment as a flavorful dip for fresh veggies, this flavor-packed primal delight will be your ultimate culinary companion. This is perfect for those who like a little extra spice to their salad or main dish!  
Features: You never refrigerate even after you open it! 
Marinade tip: When marinating, let it set for at least 30 minutes. The longer the better, and overnight is best!
Ingredients:
Water, vinegar, soybean oil, sugar, salt, oregano, msg AND cayenne pepper
Typical uses: chicken, pork, steaks, seafood, venison, alligator or anything you want a touch of spice too! 
Marinade tip: When marinating, let it set for at least 30 minutes. The longer the better, and overnight is best!



Share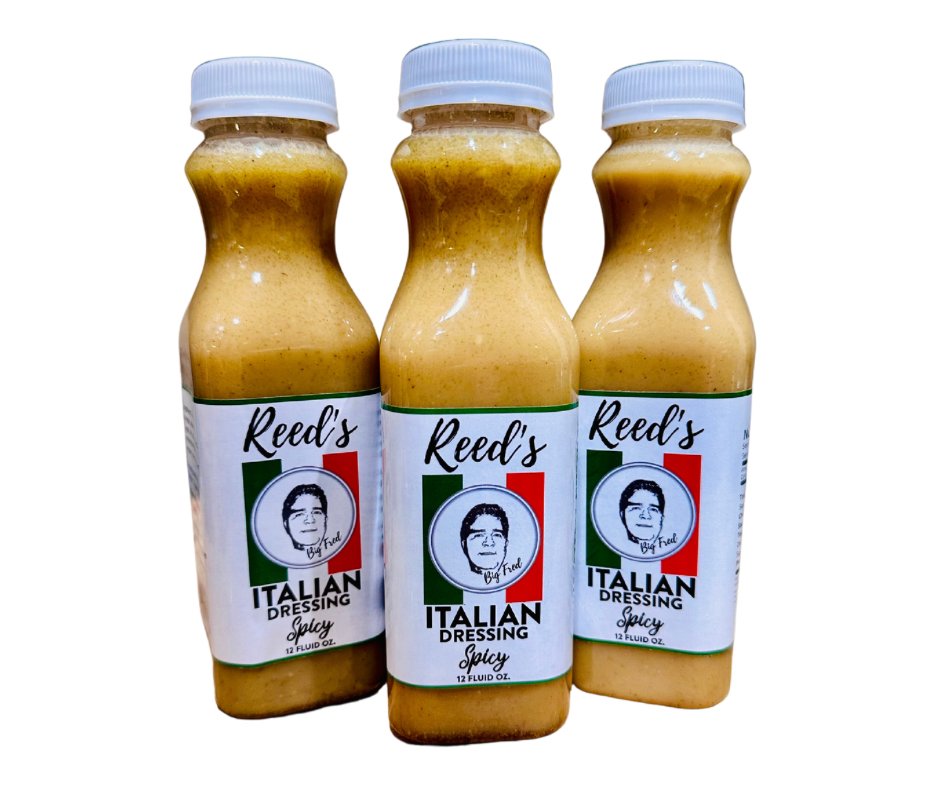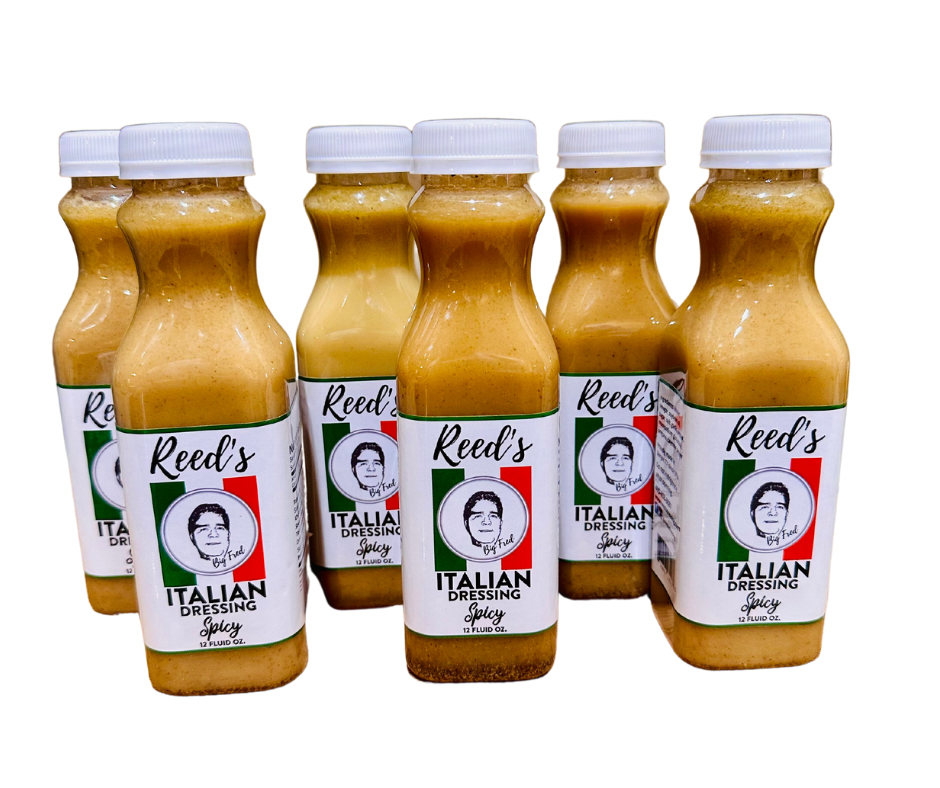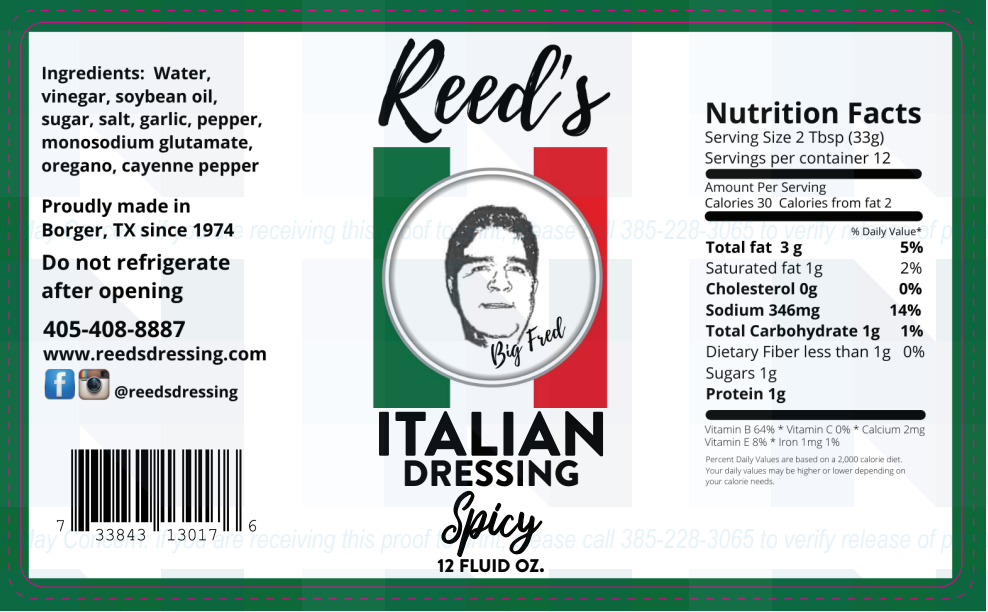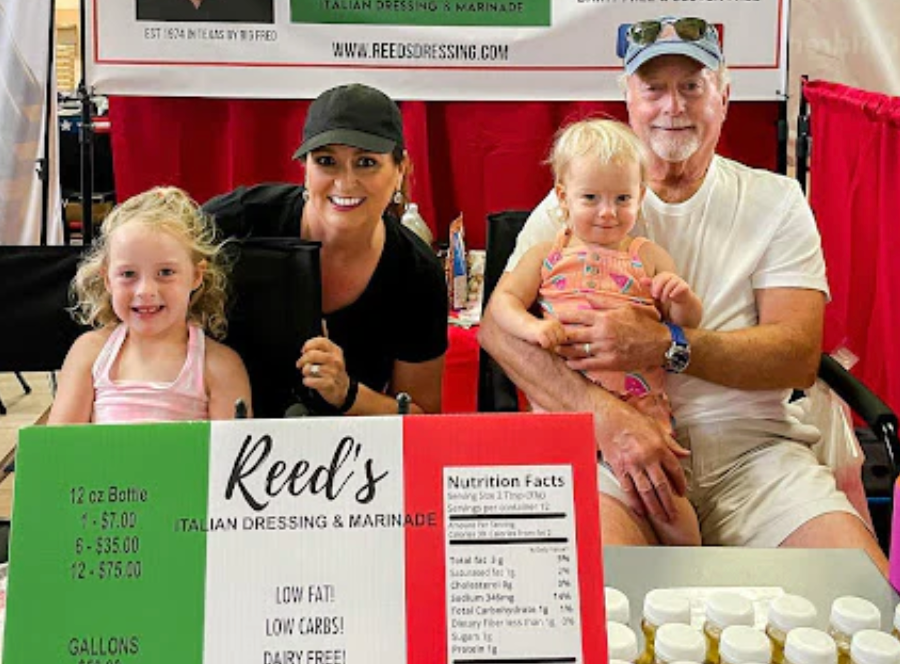 A Legacy in a Bottle
In 1971, Fred Reed developed a steak house condiment for marinades and salads. After his wife Margie's cancer diagnosis, he sold his restaurant and dedicated himself to growing the dressing business. Fred promoted his creation at fairs and shows, expanding its reach. Reed's Dressing (RD) stocked 800+ grocery stores in OK, TX, KS, NE, NM, and CO. Fred's passing in Nov 2020 led his daughter Leslie and husband John to carry on his inspiring legacy.
It's always delicious!
Thank you! I thought I had ordered the regular salad dressing so was disappointed when the spicy bottles arrived. But I'm enjoying the spicy also. A treat!
I loved this when it was marketed as a spicy marinade. I used it then as a salad dressing and it is great marinating chicken with onions and green peppers to put on skewers on the grill. I ordered six bottles and they're all for me. Thank you for making such a healthy salad dressing/marinade. 
Reeds Italian Marinade 6bottles
Very tasty on chicken. It is so good. Will try on other food. When we run out will call for some more. Thank You
Delicious
Excellent taste and worked great
IT IS GREAT
I Like salads but never as much as I do with their Creamy Italian
I will never buy store dressing again it is the best!!!!!!!!!
FREE SHIPPING NATIONWIDE

Delivery is on us for all orders $50 or more in the Continental USA. We offer $5 flat-rate shipping on all other orders.

THE TUNNEL TO TOWERS FOUNDATION

The Tunnel to Towers Foundation honors the sacrifice of first responders who laid down their lives to save others on September 11, 2001 

MONEY BACK 100% GUARANTEE

Love it, or receive a full refund on all purchases
FAQ
Why do you not have to refrigerate it after you open it?

Reed's dressing and marinades are made with spices you probably have in your pantry that require no refrigeration. We just made it taste delicious!
How many points is it on WW?

1 point for 2 tablespoons.
Is it diabetic friendly?

Yes, it is very low in sugar only one gram for two tablespoons.
What is the shelf life?

1 year but once you taste it, you will probably use it on everything!